On Thursday, Crowdcube announced a brand-new partnership with UK plant-based pitching competition Pitch + Plant.
THE COMPETITION creators, Vevolution and BRIGHT ZINE, will provide plant entrepreneurs with the opportunity to win up to £100k in investment from BRAN Investments which will be invested as part of their Crowdcube campaign.
Vevolution Co-Founder, Damien Clarkson, told Plant-Based News:
In doing so we are furthering our commitment to helping plant-based entrepreneurs obtain the knowledge, skills and connections they need to thrive.

THE VEGAN MOVEMENT IS SKYROCKETING. The rationale behind this project is related to the crescent number of vegans in UK. Last April, The Independent reported that
Veganism has skyrocketed in recent years, with more people than ever before choosing to enjoy a plant-based life.
According to a recent survey by comparethemarket.com, more than 3.5 million or 7% of Brits consider themselves vegan:
The statistics show a substantial increase since those published by The Vegan Society and Vegan Life magazine in 2016, which revealed there were roughly 540,000 vegans over the age of 15 living in Britain, Olivia Petter writes.
VEGANISM IS CONSIDERED ONE THE TWO BIGGEST "GREEN" TRENDS along with the adoption of electric cars. Professor Carolyn Roberts, Frank Jackson Professor of the Environment at Gresham College, explains:
Food accounts for about 20% of all of our greenhouse gas emissions. Estimates suggest that if all of our meat eaters switched to a vegan diet, it would roughly halve total greenhouse gas emissions associated with food.
ON A GLOBAL SCALE, DEMAND FOR VEGAN IS ON THE RISE. This is confirmed also by international delivery services like Just Eat that, early this year, on the basis of their sales in 2017, named veganism one of the biggest trends for 2018.
Just Eat Marketing Director, Edel Kinane said:
The results from this year are a good insight into the future consumer trends and while convenience will continue to be key for consumers next year and beyond, we know that they are increasingly looking for more diverse, healthy, gluten free and plant based Vegan options.
Another study by 1010 Data confirms that:
The number of products that include 'plant-based' in the item name has increased online. Searches for 'plant-based' tripled from 2016 to 2017 during March – July. Consumers have bought 2.7x more plant-based products online than they did in January 2016.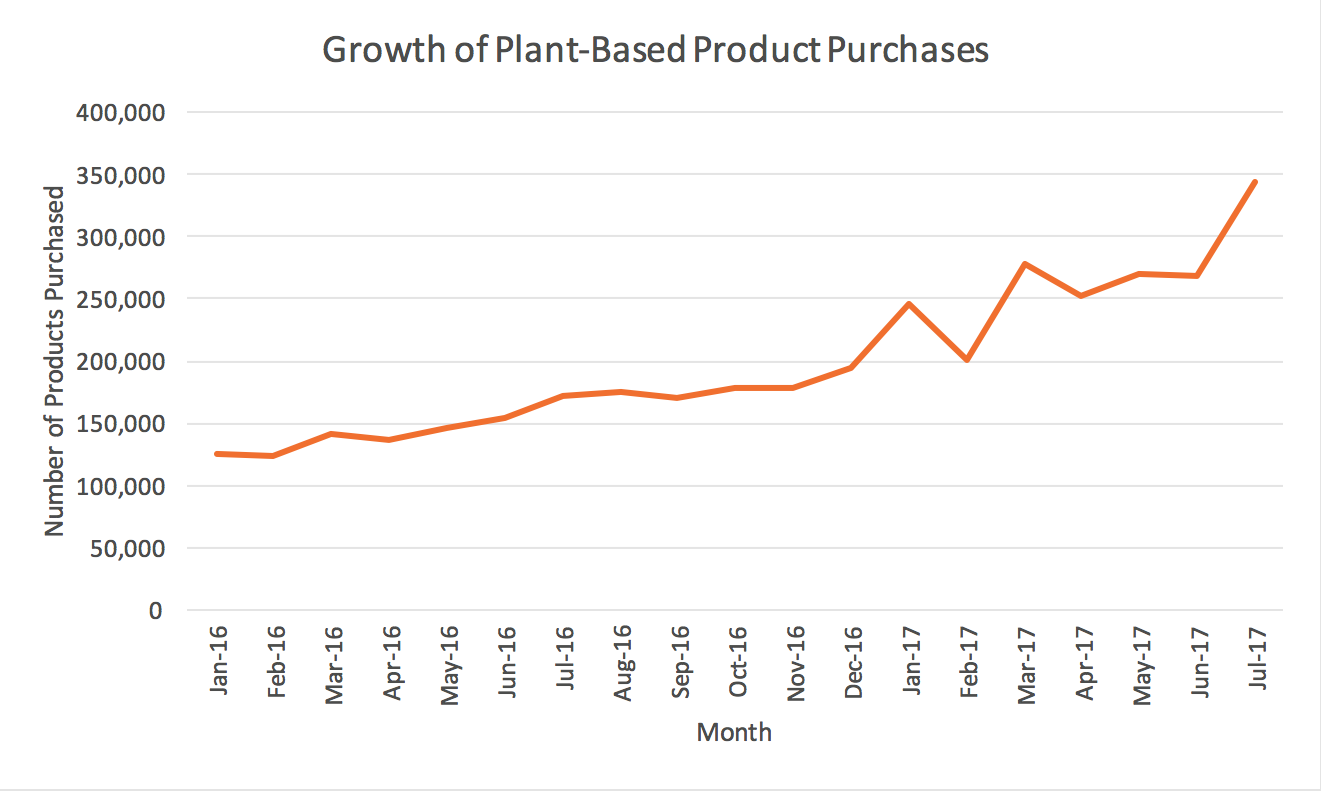 COMPANIES WANT TO MAKE THE MOST OF IT and are pivoting focus to meet vegan demand aiming on capitalizing on the growing vegan trend. An example of this comes from a big corporation like Nestlé. Interviewed by Reuters, Nestlé Chief Technology Officer Stefan Palzer acknowledged that his company has to keep pace with big trends such as the rising demand for goods that are organic, gluten-free or vegan. While he confirmed that
We are adjusting our portfolio, doing many innovations and renovations to make the portfolio more relevant and to address those trends,
he had also to reckon that
big trends are embraced by smaller companies a bit more actively than the big companies.
Crowdcube could fall in this category of firms as well as their partners in what promises to be a win-win project for all the parties involved with the added value, for one of the leading equity crowdfunding platforms worldwide, of having on board a professional investor signaling the quality of the initiative.