Summertime. For many it's the time of the year for switching off in the sun, possibly by the seaside, or scuba diving. This is what perhaps a lifestyle magazine would suggest a reader, but to keep enjoying those moments it would be worth thinking that by 2050 the plastic polluting our oceans will outweigh the marine life. Game over.
We live in the plasticene. I am impressed on how much plastic does surround us. This is a matter of daily debate with my wife as well as a big question for the future we are both contributing to build for our little one. It's scary, if you think about it.
Yesterday, the world celebrated the International Plastic Bag Free Day, whose theme was "Beat Plastic Pollution", and many outlets took a stand against the plastic bag culture.
To broaden the awareness of this environmental risk,  London-based creative agency WCRS has created The Ocean's Biggest Threat, a digital out of home campaign for Sky Ocean Rescue which won the commercial category in Ocean's annual digital creative competition.
Fiona Morgan, Head of inspiring action, Sky Ocean Rescue said:
We've all become plastic addicts – it's all over our food, drinks, clothes and a normalised part of the shopping experience. From using reusable shopping bags, coffee cups and water bottles, to simply choosing not to buy single-use plastic packaged items in the first place, we can all make simple changes to stop our oceans drowning in plastic.
Impact entrepreneurs are taking action to make things change. Consider, for instance, Andrew Cooper and Alex Schulze, a pair of millennials behind the company 4Ocean, created a business model to help support their effort of ridding the ocean of plastic.
Or the likes of a company in Indonesia who have created a plastic bag so eco-friendly you can eat it. Bali-based Avani Eco have, in fact, created a bag that they say looks and feels like plastic, but is completely degradable and compostable being made out of cassava, the vegetable root which is a staple in the diets of many in Africa, Latin America and Asia.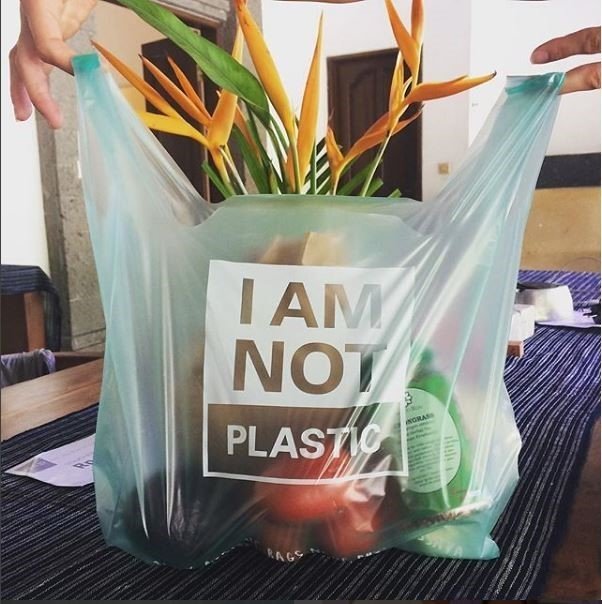 Scientist Tom Pell successfully funded on the leading crowdfunding platform Indiegogo The Clean Kilo, Birmingham's first zero waste shop which aims to cut down on the amount of plastic pollution that chokes up the ocean.
At a bigger scale, the Ellen MacArthur Foundation is contributing to change the plastic's linear economy, through an initiative called The New Plastics Economy which aims to bring together "key players including innovators and manufacturers, to rethink and redesign the future of plastics, starting with packaging," World Economic Forum's Alex Gray writes pointing out that at least 8 million tonnes of plastics find their way into the ocean each year and that:
Only 14% of plastic packaging is collected for recycling, while most plastic packaging is used only once. In addition, 95% of the value of plastic packaging material, worth between $80 billion and $120 billion annually, is lost to the economy.
However, although the phenomenon of marine plastic debris is widely recognized, scientists argue that significant gaps in understanding still inhibit the creation and implementation of effective policy responses and that additional scientific evidences could serve as an evidence-based platform to inform the creation and implementation of effective solutions.